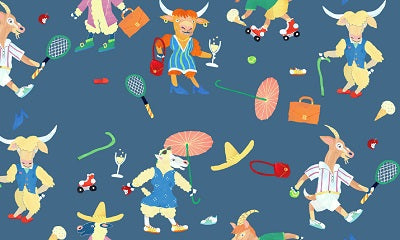 We have commisioned OK David to create a design featuring sheep, goats and yaks! David came up with a wonderfully quirky idea which he has called 'Wool Town' - it has goats on roller skates, yaks with walking sticks and sheep wearing sombreros! We have had the design printed onto a sustainable 100% bamboo fabric and were very excited to be able to use a fabric printer, Forest Digital, from a local town in Sussex.
David is a wonderfully talented artist. You may have seen his work, 'Queue for the Zoo' which Liberty of London has used for one of its best-selling fabrics.
We are currently producing some wrapping paper in our new design so we will shortly be able to offer you a gift wrapping service so you can send your gift direct to someone's home address.
Do keep a look out for other ways in which we will use the 'Wool Town' design!