Update: Thank you for your support. We have donated 2 goats to Save the Children.
We are delighted to support the Save the Children Christmas Jumper Appeal 2020. For all orders placed on Friday 11th December using the code CHRISTMASJUMPERDAY we will donate 10% to Save the Children (and give you a 5% discount!) so place your Christmas jumper orders today!
We will give the money raised to the Save the Children appeal to buy goats which can give a family milk, meat, and an income. The adult goats will breed and the baby goats will fetch a good price at market, bringing in enough money to send the children to school and help provide a family with a livelihood.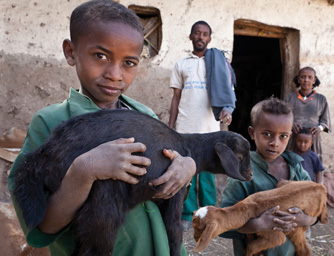 Photo: Colin Crowley / Save the Children